That's right!! Nominated 2016 BEST STOCK SCREENER AGAIN!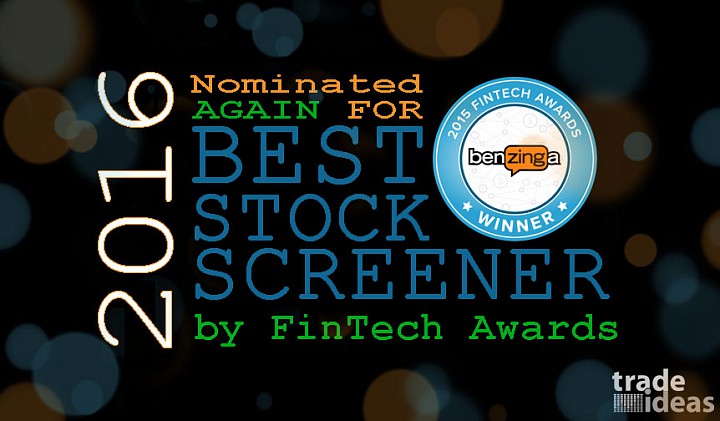 Trade Ideas LLC.
Description:
Trade Ideas creates actionable market intelligence for investors and traders to find better opportunities and make confident decisions. That's less time in front of a screen and more enjoying life. Trade Ideas uses statistics and the odds of possible outcomes to analyze millions of trade scenarios. Subscribers use Trade Ideas to leverage artificial intelligent algorithms to evaluate trade plans and ideas generating the best performance results. It's all so subscribers can make better trading decisions and obtain results like Trade Ideas' AI optimized performance as of 12/4/2015: a full 25 percentage points above the SPY.
There's an unmet demand for solving the real market problems investors. Like figuring out if a trade is likely to work out or not, or finding 6 best set-ups to trade out of a universe of over 897,643+ possibilities. It's no wonder customers and partners describe Trade Ideas as their "lifetime scanning partner" prompting them to "cancel other services".
We focus on what makes better trading decisions. Each week our webinars showcase the suite of award-winning innovations like 'Holly', the machine learning AI which presents the strategies and trading plans matching current market conditions with the best probabilities for significant returns.
Creating actionable market intelligence also demands a supportive environment in which to make better decisions. Trade Ideas developed in 2015 the best customer service in FinTech offering:
• 3 weekly FREE educational webinars plus informative trading seminars from a growing circle of affiliate partners.
• free one (1) hour training
• free chat help anytime
• free, moderated, Trader's Room chat with an active, vibrant community.
We're committed to making life better off of the chart for our subscribers and will never stop improving their ability to make better decisions. We appreciate your vote!
(619) 821-8198
315 S. Coast Hwy 101, Suite U-138, 92024, USA